Je veter is los! Er zit iets op je neus! Van flauwe grapjes tot bizarre nieuwsberichten, 1 april is dé dag dat iedereen elkaar voor de gek houdt. Dit jaar ziet het er iets anders uit dan anders, omdat we met z'n allen binnen zitten door de coronacrisis. Tijd voor wat achtergrondinformatie: waar komt 1 april vandaan en wat zijn de 1 april-tradities over de hele wereld?
Geschiedenis van 1 april
Waar 1 april precies vandaan komt, is niet bekend. Er bestaan verschillende theorieën, waar we een paar van uitlichten.
Verzendekensdag
We houden elkaar al eeuwen voor de gek: de eerste gedocumenteerde 1 aprilgrap staat in een Frans gedicht van Eloy d'Amerval uit 1508. De eerste 1 aprilgrap in het Nederlands komt uit een gedicht van rederijker Eduard de Dene, rond 1560 in Brugge. In deze parodie op '1 april' wordt een knecht erop uitgestuurd door zijn heer voor iets wat niet bestaat, zoals een kilo muggentongetjes. 1 april heette daarom vroeger ook wel 'verzendekensdag'.
You missed a memo…
Ook wordt gezegd dat 1 april van de wijziging naar de Gregoriaanse kalender in 1582 zou komen. Vóór die tijd werd nieuwjaar gevierd van 25 maart tot 1 april, maar door de verschuiving van de kalender werd dit 1 januari. Mensen die dit vergaten of niet accepteerden, kregen grappige cadeautjes of uitnodigingen voor niet-bestaande feestjes. Deze verklaring is echter niet logisch, omdat de eerste 1 aprilgrappen dus al tientallen jaren eerder zijn geconstateerd.
Alva en Den Briel
'Op 1 april verloor Alva zijn bril' is een oud versje over de inname van Den Briel door de watergeuzen. Deze inname, op 1 april 1572, is een belangrijk moment in de opstand tegen de Spanjaarden tijdens de Tachtigjarige Oorlog. Volgens sommigen is dit de oorsprong van de 1 aprilgrap – maar het is niet heel waarschijnlijk, omdat over de hele wereld 1 april wordt gevierd.
De dag wordt vaak vergeleken met historische grappenfeesten, zoals de Romeinse narrenfeesten uit de oudheid of middeleeuwse feesten als carnaval. Echte bewijzen hiervoor zijn er niet. We tasten dus nog redelijk in het duister wat betreft de herkomst van de dag.
Tradities over de wereld
Als de kalender 1 april aangeeft, kun je in Nederland heel wat grappen verwachten. Van het nationale nieuws – dat vaak al van tevoren is aangekondigd en op deze dag wordt onthuld als 1 aprilgrap – tot bedrijven en je buurman die zegt dat je veter los zit. Trap je in de grap, dan wordt er '1 april!' geroepen, door kinderen vaak achtervolgd door 'kikker in de bil, die er nooit meer uit wil!'
In Frankrijk, België en Italië staat 1 april bekend als 'poissons d'avril', oftewel aprilvissen. Je probeert een papieren vis op andermans rug te plakken, en als het slachtoffer de grap ontdekt heeft, roep je: 'poisson d'avril'!
In het Verenigd Koninkrijk, Canada en de Verenigde Staten heet de eerste dag van april 'April Fool's Day'. In het Verenigd Koninkrijk wordt er maar gegrapt tot 12:00 uur 's middags – als je daarna iemand in de maling neemt, ben je zelf een 'fool'. Chauffeurs in Ierland zelfs aan de andere kant van de weg gaan rijden – hartstikke gevaarlijk natuurlijk. In Schotland wordt 1 april op twee dagen gevierd: de eerste dag staat in het teken van 'hunting the gowk', oftewel de jacht op de koekoek, waarbij mensen om nepboodschappen worden gestuurd. De tweede dag is 'Tailie day' en draait om het plakken van staarten op elkaars rug.
Griekenland zou Griekenland niet zijn als er niet allerlei mythes rondom 1 april de ronde doen. Zo zou je het hele jaar geluk hebben als je iemand succesvol voor de gek houdt, of krijg je een goede oogst dat jaar. Ook zou de regen op 1 april een geneeskrachtige werking hebben.
Ook de Polen houden elkaar voor de gek op deze dag. 'Prima Aprilis, uważaj, bo się pomylisz!' wordt er dan geroepen – vertaald naar '1 april, wees voorzichtig – je kunt het fout hebben!'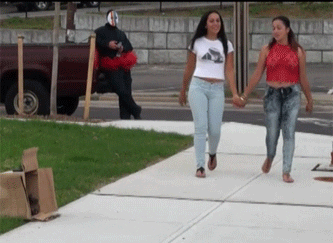 Ook Rusland staat op 1 april in teken van pranks. Hier wordt het День Дурака genoemd, Den Doeraka, dag van de dommerik.
In Odessa in Oekraïne wordt 1 april heel groots gevierd: het is zelfs een vrije dag. Als je een grap uithaalt op deze dag – daar gedoopt tot Humorina – zegt de grappenmaker 'Первое Апреля, никому не верю' – wat '1 april, vertrouw niemand' betekent. Er zijn grote parades, concerten, optredens en fairs in de stad en de deelnemers lopen in fleurige kostuums.
In Brazilië heet 1 april Dia da Mentira, dag van de leugen. Een dag waarin iedereen – ook het nieuws – grappen de wereld in brengt.
In Spanje en Latijns-Amerika wordt 'de dag van de Onschuldige Kinderen' gevierd op 28 december. Nadat je in de maling bent genomen, krijg je 'Inocente palomita que te dejaste engañar' naar je hoofd geslingerd – 'Onnozel duifje, je hebt je laten beetnemen!' Of de korte versie: 'Inocente para siempre!' – 'Voor altijd onnozel!' Alleen op het Spaanse eiland Minorca wordt 1 april gevierd, omdat dit vroeger een Britse kolonie was.
Bron: Insider.com, Wikipedia, Historiek.net
Lees ook de fun facts over België en de fun facts over Nederland. En weet jij wat de verschillen zijn tussen Nederland, Vlaanderen en Wallonië in hoe ze Sinterklaas vieren?